Someone give me a fucking camera!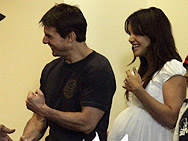 Apparently pictures of Suri Cruise are going for $3 - 5 million.
Dude, why are all these bitches waiting at their house? Don't they know that Bed, Bath, and Beyond is where the high quality pillow cases are sold?
I bet they are pretty pissed that Brad and Angelina's baby photos are worth more, when the fucker hasn't even been born.
But that's cause the hero is always worth more than the villain.